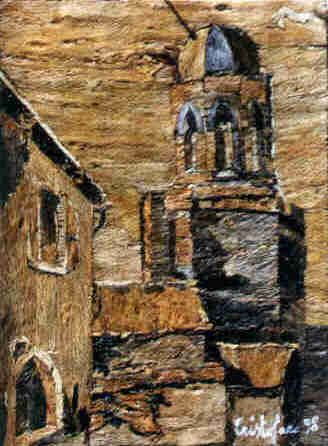 Il sole,
colore
naturale
delle
opere d'arte.



The sun,
natural
color of the
work of art.

QUADRO N. 1 CM. 29 X 39 - TORRE CAMPANARIA
EURO 930
Collage con "pale" di fichi d'india. Tecnica artistica adoperata in Calabria, precisamente in Montauro (CZ.) - Italy, da Antonio Cristofaro, artista Montaurese amante dell'arte pittorica e grafica, discepolo di Antonio Zangari, il quale adoperņ per la prima volta le "pale" di fico d'india per comporre le sue opere con la tecnica dell'essiccazione al sole e con una paziente e attenta cura di questa pianta riusciva ad inventare e a far comparir magicamente sulle tele paesaggi suggestivi. Oggi Antonio Cristofaro riesce con grande pazienza e attitudine, dopo aver migliorato questa tecnica, a comporre con le "pale" opere di grande bellezza e prestigio riportando su esse, con una tecnica di collage, usando colori naturali paesaggi, luoghi e soggetti di ineguagliabile bellezza.
Questa tecnica di grande interesse artistico adoperata oggi solo dal Cristofaro in tutto il mondo dimostra come solo con i frutti della terra e un grande amore per l'arte si possano creare opere che suscitano oggi e domani ricordi e sentimenti di grande amore per la natura e il mondo.
Collage with shovels of prickly pear. Artistic technique used in Calabria, precisely in Montauro (CZ.) - Italy, from Antonio Cristofaro, artist Montaurese lover of the pictorial art and graphics, disciple of Antonio Zangari, which used for the first time the shovels of fig tree of Indian to compose his work with the technique of the desiccation to the sun and with a patient and careful care of this cries succeeded in inventing and to make comparir magically on the cloths suggestive landscapes. Today Antonio Cristofaro succeeds with big patience and attitude, after having improved this technique, to compose with the shovels work of great beauty and prestige bringing on them, with a technique of collage, using colors natural landscapes, places and subjects of incomparable beauty.
This technique of big artistic interest used only today from the Cristofaro in the whole world shows as solo with the fruits of earth and a big love for the art work can be created that arouse today
and tomorrow memoirs and feelings of big love for the nature and the world.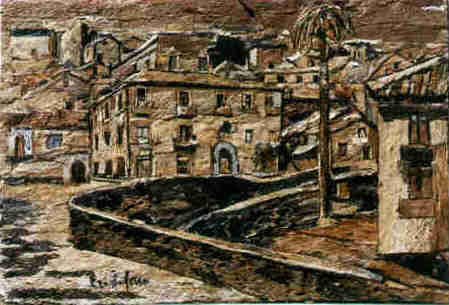 QUADRO N. 2 CM. 50 X35 MONTAURO - FONTANA VECCHIA
EURO 1.550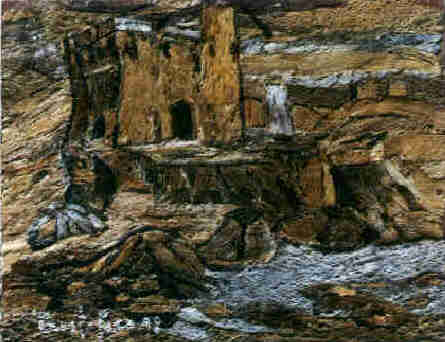 QUADRO N. 3 CM. 30 X 24 - TORRE
EURO 582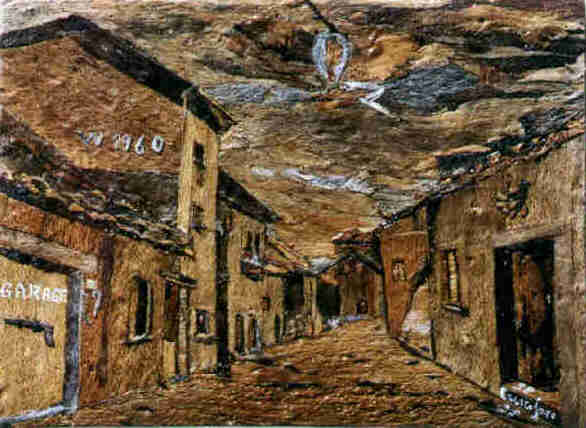 QUADRO N. 4 CM. 47,5 X 35,5 MONTAURO - PAESAGGIO
EURO 992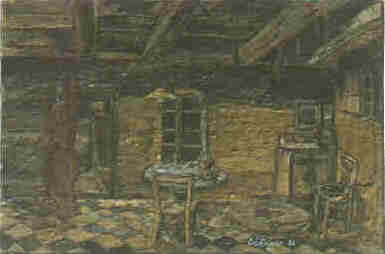 QUADRO N. 5 CM. 58,5 X 40 - INTERNO CASOLARE
EURO 736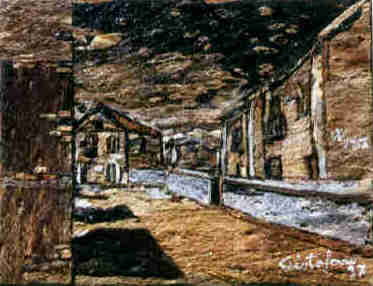 QUADRO N. 6 CM. 24 X 30 MONTAURO "CURVA DA NBUNNA"
EURO 682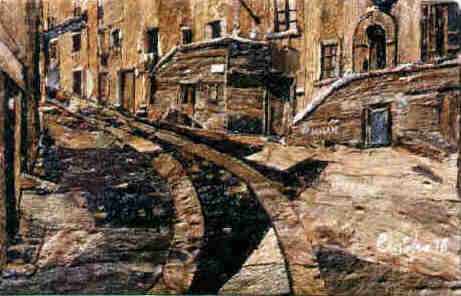 QUADRO N. 7 CM. 50 X 33 MONTAURO - PIAZZA CHIESA MATRICE
EURO 930